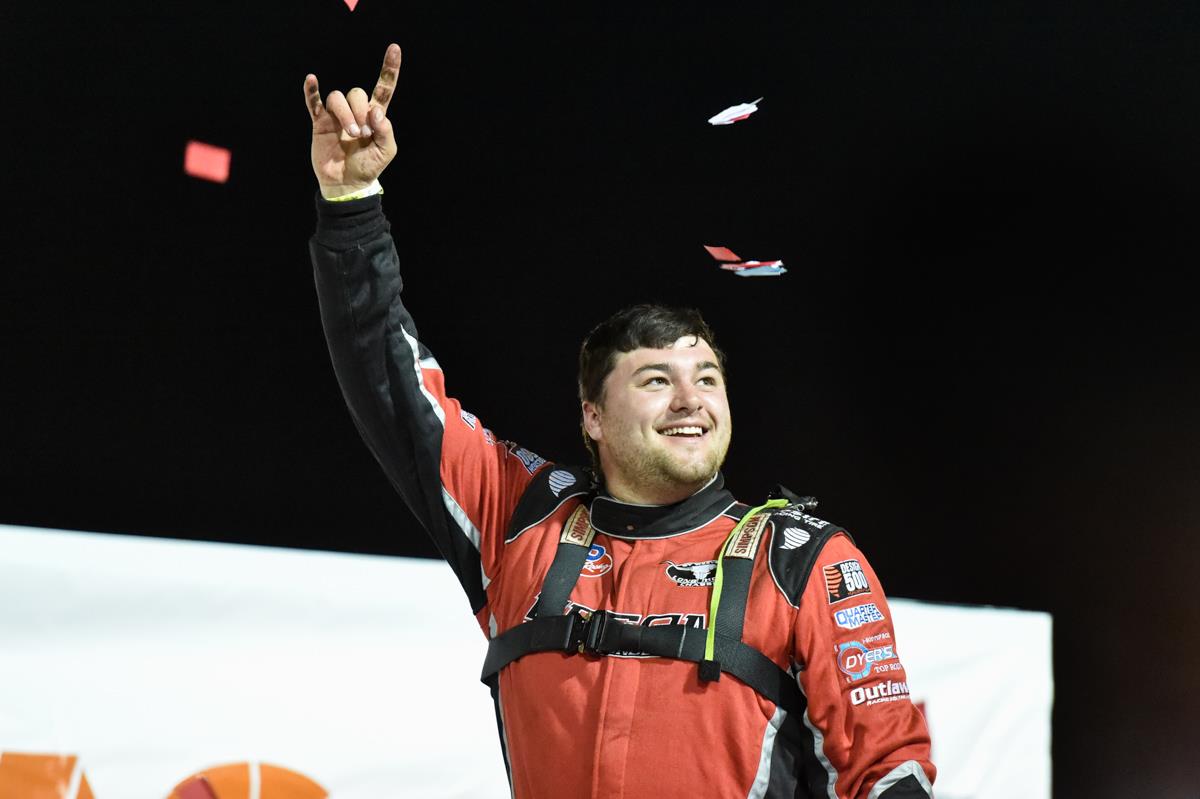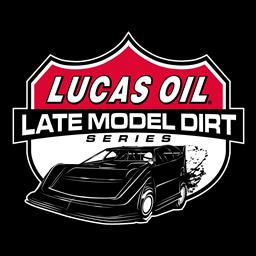 2/10/2017
Lucas Oil Late Model Dirt Series
---
Overton Grabs First Career Lucas Oil Victory at Golden Isles
WAYNESVILLE, GA (February 10, 2017) The Rhino Ag Super Bowl of Racing – Presented by General Tire kicked off the 2017 Lucas Oil Late Model Dirt Series season on Friday night at Golden Isles Speedway.
When race leader Billy Moyer Jr. left the main event with 13 laps to go, Overton inherited the top spot and went on to win his first career Lucas Oil Late Model Dirt Series event.
Overton held off fellow Longhorn Chassis driver Tim McCreadie in the Sweeteners Plus entry at the finish. Jimmy Owens ran third in the E3 Spark Plugs, R&W Motorsports, Rocket Chassis. Completing the top five were Brandon Sheppard and Jonathan Davenport.
"I hate it for little Billy, but sometimes that stuff happens. We will take it any way we can get it. You never know what's going to happen at the end of a race at this place. I want to thank Chip Stone, Randy Weaver, and all my sponsors for making this possible. This is a great way to start our season," said Overton.
"It's great to win here in my home-state. There was a really good crowd here tonight - the most I think I have ever seen here on a Friday Night. We look forward to coming back tomorrow night and getting our team another win. Thanks to Longhorn Chassis, Cornett Racing Engines, Mission Transport, CrossFit by Overton, Outlaw Racing Southeast, and A.F. Stone Professional Medical Services."
McCreadie was beginning to gain on Overton when the final caution of the race flew with six laps to go. On the restart, Overton pulled away to get the win.
McCreadie was happy with his second-place run. "I have no tread left on the right rear tire. There wasn't any use in pushing it at the end. He [Overton] pulled away, but I am sure he probably didn't have any tires left as well. This is a good start for the points. We have been working hard and it paid off here tonight. Let's just hope we can keep doing this and be more consistent this year."
Owens also got his season off to a good start with his third-place finish. "We are really happy with the car, we switched Durham Racing Engines this year and it was good tonight. I know the track crew worked hard on the track. I hope that after tonight, this momentum continues for the rest of the season."
Completing the top ten were Josh Richards, Darrell Lanigan, Boom Briggs, Devin Moran, and Jason Fitzgerald.
In preliminary action, Billy Moyer Jr. set the overall Miller Welders Fast Time (Group A) amongst the 51 entrants, with a lap of 15.423 seconds. Donald McIntosh set the fastest time in Group B with a time of 15.560 seconds. Billy Moyer Jr., Brandon Overton, Jimmy Owens, Josh Richards, Darrell Lanigan and Tim McCreadie won their respective heat races. Rick Eckert and Frank Heckenast Jr. won their respective B-Mains.
Lucas Oil Late Model Dirt Series
Race Summary
Friday, February 10th, 2017
Rhino Ag Super Bowl of Racing – presented by General Tire
Golden Isles Speedway – Waynesville, GA
Miller Welders Fast Time Group A: Billy Moyer Jr / 15.423 seconds
Miller Welders Fast Time Group B: Donald McIntosh / 15.560 seconds
Eibach Springs Heat Race #1 Finish (10 Laps, Top 3 Transfer): Billy Moyer, Jr., Jonathan Davenport, Don O'Neal, Rick Eckert, Donald Bradsher, Kyle Bronson, Blake Spencer, Cecil Eunice, Brian Connor-DNS
FK Rod Ends Heat Race #2 Finish (10 Laps, Top 3 Transfer): Brandon Overton, Brandon Sheppard, Brent Larson, Doug Drown, Ricky Weiss, Earl Pearson, Jr., Colton Flinner, Brian Ligon, Scott Bloomquist-DNS
Simpson Performance Products Heat Race #3 Finish (10 Laps, Top 3 Transfer): Jimmy Owens, Devin Moran, Casey Roberts, GR Smith, Steven Roberts, Steve Francis, Pancho Lawler, Brian Shirley-DNS
QA1 Heat Race #4 Finish (10 Laps, Top 3 Transfer): Josh Richards, Donald McIntosh, Jason Fitzgerald, Frank Heckenast, Jr., Dennis Erb, Jr., Brett Hamm, Joey Coulter, Mike Nasworthy, Austin Hubbard-DNS
Rhino AG Heat Race #5 Finish (10 Laps, Top 3 Transfer): Darrell Lanigan, Ross Bailes, Ryan King, Kenny PettyJohn, Michael Page, Austin Rettig, Hudson O'Neal, Timothy Culp-DNS
General Tire Heat Race #6 Finish (10 Laps, Top 3 Transfer): Tim McCreadie, Boom Briggs, Tyler Erb, Gregg Satterlee, Chase Junghans, Shane Tankersley, Bob Gardner, Zeke McKenzie
Penske Racing Shocks B-Main #1 Finish (12 Laps, Top 2 Transfer): Rick Eckert, GR Smith, Earl Pearson, Jr., Doug Drown, Donald Bradsher, Colton Flinner, Kyle Bronson, Steve Francis, Cecil Eunice, Blake Spencer, Brian Ligon, Pancho Lawler, Ricky Weiss, Scott Bloomquist, Steven Roberts, Brian Shirley, Brian Connor-DNS
Fast Shafts B-Main #2 Finish (12 Laps, Top 2 Transfer): Frank Heckenast, Jr., Kenny PettyJohn, Gregg Satterlee, Dennis Erb, Jr., Michael Page, Chase Junghans, Timothy Culp, Hudson O'Neal, Bob Gardner, Austin Rettig, Joey Coulter, Shane Tankersley, Zeke McKenzie, Mike Nasworthy, Brett Hamm-DNS, Austin Hubbard-DNS
Feature Finish (50 Laps):
FINISH START CAR # DRIVER NAME HOMETOWN EARNINGS
1 3 116 Brandon Overton Evans, GA $10,000
2 6 39 Tim McCreadie Watertown, NY $5,500
3 5 20 Jimmy Owens Newport, TN $3,500
4 9 1S Brandon Sheppard New Berlin, IL $2,750
5 7 49 Jonathan Davenport Williamson, SC $2,250
6 2 1R Josh Richards Shinnston, WV $1,800
7 4 14 Darrell Lanigan Union, KY $1,500
8 12 99B Boom Briggs Bear Lake, PA $1,300
9 11 9 Devin Moran Dresden, OH $1,200
10 14 7F Jason Fitzgerald Middleburg, FL $1,100
11 8 7m Donald McIntosh Dawsonville, GA $1,075
12 25 1 Earl Pearson, Jr. Jacksonville, FL $350
13 19 7 Rick Eckert York, PA $1,025
14 16 30K Ryan King Seymour, TN $1,000
15 21 22* GR Smith Statesville, NC $950
16 18 91 Tyler Erb New Waverly, TX $925
17 26 15 Steve Francis Bowling Green, KY $200
18 15 B1 Brent Larson Lake Elmo, MN $875
19 20 99JR Frank Heckenast, Jr. Frankfort, IL $850
20 13 5 Don O'Neal Martinsville, IN $825
21 22 38 Kenny PettyJohn Millsboro, DE $800
22 24 28E Dennis Erb, Jr. Carpentersville, IL $800
23 10 87 Ross Bailes Clover, SC $800
24 17 101 Casey Roberts Toccoa, GA $800
25 1 21JR Billy Moyer, Jr. Batesville, AR $900
26 23 0 Scott Bloomquist Mooresburg, TN $800
Race Statistics
Entrants: 51
Lap Leaders: Billy Moyer Jr. (Laps 1 – 37); Brandon Overton (Laps 38 – 50)
Cautions: Dennis Erb Jr., Scott Bloomquist (Lap 6); Don O'Neal (Lap 8); Scott Bloomquist (Lap 37); Tyler Erb (Lap 44)
Lucas Oil Late Model Dirt Series Provisionals: Scott Bloomquist, Dennis Erb Jr.
Lucas Oil Late Model Dirt Series Emergency Provisionals: Earl Pearson Jr., Steve Francis
Miller Welders Fast Time Provisional: n/a
Wrisco Feature Winner: Brandon Overton
Optima Batteries Hard Charger of the Race: Earl Pearson Jr. (Started: 25th; Finished: 12th; Advanced 13 Positions)
Midwest Sheet Metal Spoiler Challenge Point Leader: Scott Bloomquist
Allstar Performance Power Move of the Race: Don O'Neal
Sunoco Race for Gas Highest Finisher: Jimmy Owens
Hot Rod Processing Rookie of the Race: n/a
COMP Cams Engine Builder of the Race: Cornett Race Engines
Ohlins Shocks Chassis Builder of the Race: Longhorn Chassis
Outerwears Crew Chief of the Race: Jeff Strope (Jimmy Owens)
Fastest Lap of the Race: Billy Moyer Jr. (Lap #10 – 15.6150 seconds)
Safecraft Most Laps Led: Billy Moyer Jr. (37 Laps)
PFC Brakes Pole Award: Billy Moyer Jr.
Time of Race: 28 minutes 18 seconds
---
Submitted By: Jeremy Shields
Back to News