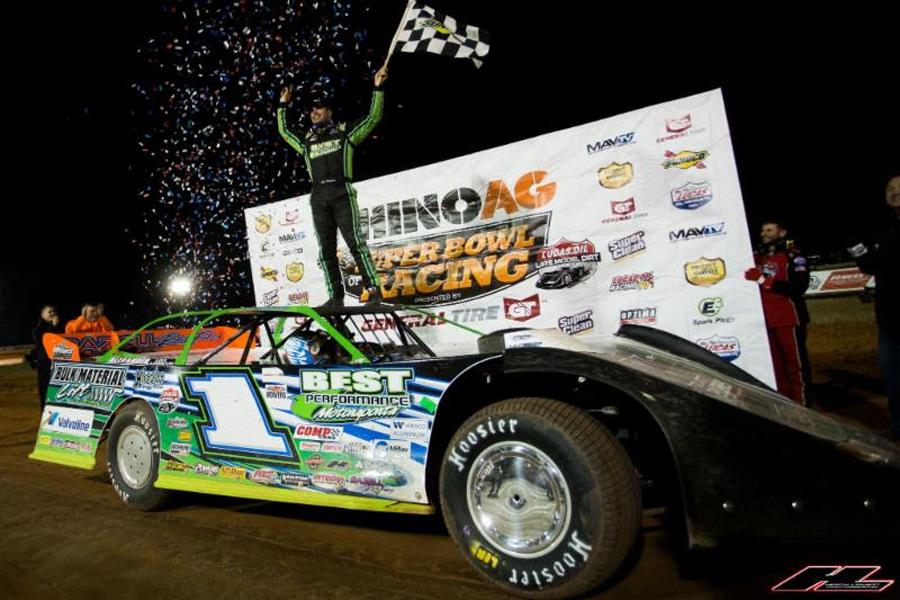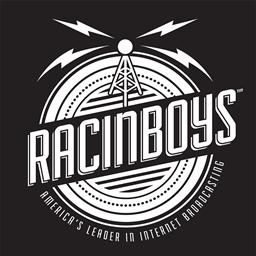 ---
Richards takes Lucas Oil Late Model opener
By Lucas Oil Late Model Series PR (Brunswick, GA) -- The 2018 Lucas Oil Late Model Dirt Series season kicked off in grand fashion on Friday night of the RhinoAg Super Bowl of Racing - presented by General Tire. Defending series champion Josh Richards earned a hard-fought victory over 2017 Rookie-of-the Year, Hudson O'Neal.
Richards took the lead from Jonathan Davenport on lap five and then held off a furious late-race charge from the 15th-place starting O'Neal. O'Neal made what appeared to be a winning pass on Richards in turns three and four on the final lap, but Scott Bloomquist was sitting in the middle of turn four and brought out a caution, negating O'Neal's pass for the lead.
In the end, Richards was able to hold off O'Neal to score his twenty-third career LOLMDS victory. The driver of the Best Performance Motorsports car took the first event of the season over O'Neal, Davenport, Jimmy Owens, and Brandon Sheppard.
Richards and Davenport exchanged the lead three times in the first five laps of the 50-lap main event, with Richards forging ahead. Owens challenged Davenport for third, and finally got by him. Owens ran in second for several laps until O'Neal and Davenport got around him late in the race.
Richards breathed a sigh of relief in Lucas Oil Victory Lane, "I knew I was a sitting duck, I didn't pay attention to the scoreboard. I thought I was protecting the top from Davenport making the pass and here comes Hudson on the bottom. He got to the bottom of the burm in turn three and got by, but then the caution came out."
"We were too tight to steer down off turn two. I thought I had lost the race. Fortunately, the caution came out and we were able to hold him [O'Neal] off on the last lap. It is a great way to start the season. We didn't run Gateway and Arizona like some of the guys did. We were getting ready for this. There really isn't an off-season anymore. If the race stays green, he [O'Neal] would have had us."
While the 17-year-old O'Neal was denied his first career LOLMDS feature, he was happy with his close call. "I just wish we hadn't started so far back. We probably had the fastest car during the race. Yes, it was a desperate pass there on Josh on that final lap and then I saw the caution flag and said oh no. We can build on this. It is just a matter of time before we get that first Lucas Oil win."
Davenport was looking for his fourth career win at Golden Isles, and felt he had a good run for his new race team, owned by Lance Landers. "This is a new engine combo that I haven't run before. It will take a little bit of time to get used to that. I didn't cut up my right rear tire enough. I was hoping some cars would run the top and help clean it off more. It was a great run for us and we will back tomorrow night after making some adjustments."
Completing the top ten were Earl Pearson Jr., Tim McCreadie, Kyle Bronson, Mason Zeigler, and Don O'Neal.
Lucas Oil Late Model Dirt Series
Race Summary
Friday, February 2, 2018
RhinoAg Super Bowl of Racing - Presented by E3 Spark Plugs
Golden Isles Speedway - Waynesville, GA
Miller Welders Fast Time Group A: Jonathan Davenport / 16.070 seconds
Miller Welders Fast Time Group B: Josh Richards / 16.185 seconds
Eibach Springs Heat Race #1 Finish (10 Laps, Top 4 Transfer): Jonathan Davenport, Shane Clanton, Don O'Neal, Gregg Satterlee, Tim McCreadie, Shanon Buckingham, Billy Moyer, Jr., Jonathan Rowan, Carder Miller, Mike Benedum, Jason Jameson
FK Rod Ends Heat Race #2 Finish (10 Laps, Top 4 Transfer): Jimmy Owens, Kyle Bronson, Brandon Overton, Hudson O'Neal, Casey Roberts, Chase Junghans, Boom Briggs, Blake Spencer, Shane Tankersley, Brian Shirley-DNS
Simpson Performance Products Heat Race #3 Finish (10 Laps, Top 4 Transfer): Josh Richards, Earl Pearson, Jr., Darrell Lanigan, Morgan Bagley, Mason Zeigler, Timothy Culp, Ryan King, Jason Fitzgerald, Brian Connor, Donald McIntosh
QA1 Heat Race #4 Finish (10 Laps, Top 4 Transfer): Brent Larson, Scott Bloomquist, Brandon Sheppard, Bobby Pierce, Tyler Erb, Dennis Erb, Jr., Jeff Mathews, Coleby Frye, Craig Wolford, Steven Roberts
Penske Racing Shocks B-Main #1 Finish (12 Laps, Top 3 Transfer): Tim McCreadie, Casey Roberts, Shanon Buckingham, Billy Moyer, Jr., Jason Jameson, Chase Junghans, Boom Briggs, Jonathan Rowan, Mike Benedum, Blake Spencer, Carder Miller, Shane Tankersley, Brian Shirley-DNS
Fast Shafts B-Main #2 Finish (12 Laps, Top 3 Transfer): Mason Zeigler, Dennis Erb, Jr., Timothy Culp, Tyler Erb, Brian Connor, Jeff Mathews, Craig Wolford, Ryan King, Steven Roberts, Coleby Frye, Jason Fitzgerald-DNS, Donald McIntosh-DNS
Feature Finish (50 Laps):
FINISH START CAR # DRIVER NAME HOMETOWN EARNINGS
1 2 1R Josh Richards Shinnston, WV $10,100
2 15 71 Hudson O'Neal Martinsville, IN $5,500
3 1 49 Jonathan Davenport Blairsville, GA $3,600
4 3 20 Jimmy Owens Newport, TN $2,750
5 12 1s Brandon Sheppard New Berlin, IL $2,250
6 6 1 Earl Pearson, Jr. Jacksonville, FL $1,800
7 17 39 Tim McCreadie Watertown, NY $1,500
8 7 40B Kyle Bronson Brandon, FL $1,300
9 18 25Z Mason Zeigler Chalk Hill, PA $1,200
10 9 5 Don O'Neal Martinsville, IN $1,100
11 4 B1 Brent Larson Lake Elmo, MN $1,075
12 10 14 Darrell Lanigan Union, KY $1,050
13 20 28 Dennis Erb, Jr. Carpentersville, IL $1,025
14 21 50 Shanon Buckingham Morristown, TN $1,000
15 13 22 Gregg Satterlee Indiana, PA $950
16 23 99B Boom Briggs Bear Lake, PA $925
17 8 0 Scott Bloomquist Mooresburg, TN $900
18 16 32 Bobby Pierce Oakwood, IL $875
19 11 116 Brandon Overton Evans, GA $850
20 24 12J Jason Jameson Lawrenceburg, IN $825
21 14 14m Morgan Bagley Gladewater, TX $800
22 5 25 Shane Clanton Zebulon, GA $800
23 22 C8 Timothy Culp Prattsville, AR $800
24 19 101 Casey Roberts Toccoa, GA $800
Race Statistics
Entrants: 41
Lap Leaders: Josh Richards (Lap 1); Jonathan Davenport (Laps 2 - 4); Josh Richards (Laps 5 - 50)
Cautions: Casey Roberts (Lap 8); Jason Jameson (Lap 34); Bobby Pierce (Lap 34); Jason Jameson (Lap 38); Scott Bloomquist (Lap 49)
Lucas Oil Late Model Dirt Series Provisionals: Boom Briggs
Miller Welders Fast Time Provisionals: Jason Jameson
Lucas Oil Late Model Dirt Series Emergency Provisionals: N/A
Wrisco Feature Winner: Josh Richards
Optima Batteries Hard Charger of the Race: Hudson O'Neal (Started: 15th;
Finished: 2nd; Advanced 13 Positions)
Midwest Sheet Metal Spoiler Challenge Point Leader: Josh Richards
Allstar Performance Power Move of the Race: Dennis Erb Jr.
Sunoco Race for Gas Highest Finisher: Josh Richards
Hot Rod Processing Rookie of the Race: N/A
COMP Cams Engine Builder of the Race: Durham Racing Engines
Ohlins Shocks Chassis Builder of the Race: Rocket Chassis
Outerwears Crew Chief of the Race: Taylon Center (Hudson O'Neal)
Fastest Lap of the Race: Josh Richards (Lap #4 - 15.8044 seconds)
Most Laps Led: Josh Richards (32 Laps)
Dirty Girl Racewear Furthest Traveler: Brent Larson
PFC Brakes Pole Award: Josh Richards
Time of Race: 31 minutes 09 seconds
Lucas Oil Championship Point Standings:
POS CAR # DRIVER NAME HOMETOWN POINTS EARNINGS
1 1R Josh Richards Shinnston, WV 260 $10,100
2 71 Hudson O'Neal Martinsville, IN 230 $5,500
2 49 Jonathan Davenport Blairsville, GA 230 $3,600
4 20 Jimmy Owens Newport, TN 210 $2,750
5 1s Brandon Sheppard New Berlin, IL 205 $2,250
6 1 Earl Pearson, Jr. Jacksonville, FL 200 $1,800
7 39 Tim McCreadie Watertown, NY 195 $1,500
8 40B Kyle Bronson Brandon, FL 190 $1,300
9 25Z Mason Zeigler Chalk Hill, PA 185 $1,200
10 5 Don O'Neal Martinsville, IN 180 $1,100
11 B1 Brent Larson Lake Elmo, MN 175 $1,075
12 14 Darrell Lanigan Union, KY 170 $1,050
13 28 Dennis Erb, Jr. Carpentersville, IL 165 $1,025
14 50 Shanon Buckingham Morristown, TN 160 $1,000
15 22 Gregg Satterlee Indiana, PA 155 $950
16 99B Boom Briggs Bear Lake, PA 150 $925
17 0 Scott Bloomquist Mooresburg, TN 145 $900
18 32 Bobby Pierce Oakwood, IL 140 $875
19 116 Brandon Overton Evans, GA 135 $850
20 12J Jason Jameson Lawrenceburg, IN 130 $825
21 14m Morgan Bagley Gladewater, TX 125 $800
21 25 Shane Clanton Zebulon, GA 125 $800
21 C8 Timothy Culp Prattsville, AR 125 $800
21 101 Casey Roberts Toccoa, GA 125 $800
Points are unofficial until Close of Business on the Tuesday following Race Day
---
Submitted By: Kirk Elliott
Back to News