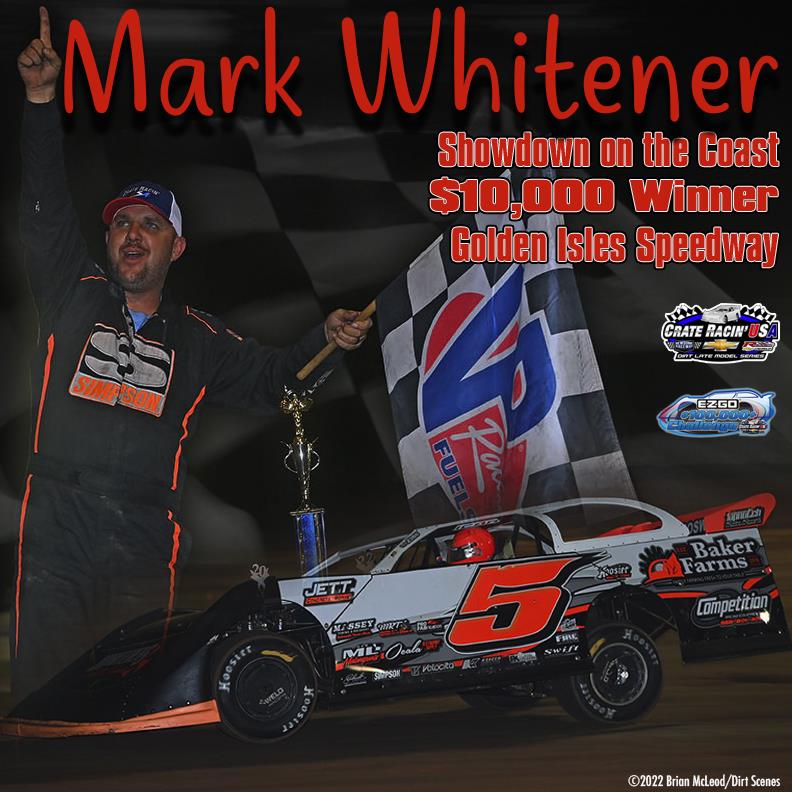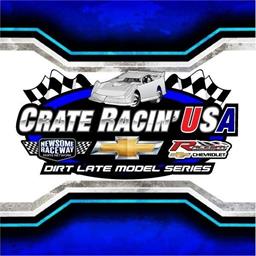 10/18/2022
Crate Racin' USA Dirt Late Model Series
---
Whitener Wins $10,000 Showdown on the Coast
WAYNESVILLE, Ga. (Oct. 15) — Mark Whitener of Middleburg, Fla., is well known for his racing prowess on dirt ovals that are scattered about his home region, and the veteran driver put his abilities on display while en route to victory in the 60-lap Newsome Raceway Parts Crate Racin' USA Dirt Late Model Series-sanctioned Showdown on the Coast Saturday night at Golden Isles Speedway.
Showing race-long strength and leading from start to finish in the touring circuit's 16th race of the season, Whitener picked up the $10,000 first-place prize money and led occasional late-race challenger Hunter Peacock across the stripe at the 3/8-mile oval. He staved off the Macon, Ga., driver's steady presence in lapped traffic on a tough track surface that yielded little extra racing room, and made it necessary for Whitener to stay on the low side of the 4/10-mile oval.
Hoping that Peacock didn't find the upper groove traction necessary to make an outside pass, Whitener patiently rode behind the slower machines and protected the coveted leader's spot, and then pulled away from Peacock handily on each restart after two late cautions on the 46th and 55th circuits tightened the field in the latter stages.
Completing the top five behind the lead duo were Joseph Brown, current series points leader Jason Welshan and reigning series titlist Jimmy Thomas, who advanced forward from ninth on a 29-car starting grid.
The event was also part of the second-year E-Z-GO $100,000+ Challenge, a collection of races that each pay at least $10,000 to the winner, and also awards a separate points fund to its top five drivers. Welshan's fourth-place finish helped extend his championship-chasing advantage to a now-commanding 148-point edge over Jake Knowles in the chase for the regular series title, while Welshan climbed to within two markers of Thomas [426-424] in the E-Z-GO points standings.
More Magic at Golden Isles
The win was Whitener's third-career victory on the E-Z-GO $100,000+ Challenge circuit, and he also claimed last year's championship on the "series within a series" presentation that is sponsored by the Augusta, Ga-based company that has become a world leader and a global manufacturer of golf cars, utility vehicles and personal transportation vehicles.
He also claimed a victory in a $10,000-to-win event earlier this season on the regular touring series at the same facility, but that one didn't count points towards the E-Z-GO $100,000+ Challenge.
"It's nice to be up here tonight accepting a check for $10,000," Whitener said. "We won that E-Z-GO championship last year, and it was a really good deal that paid $5,000 to the champion. Track conditions were not the best tonight, and I don't really know why I can't qualify well here. The last two or three times here I've had to start back a couple or three rows in a heat race.
"Tonight we were able to win it after mixing it up with everybody else a little bit. The track was a little better in the heat race, and we all raced hard and put on a good show. I had fun out there, and winning that heat race turned out to be a key to our whole weekend."
The preliminary victory put Whitener on the pole, and he took off from the post position on a journey that looked commanding at times, less so at others, and overall served as a reminder of the magic that Whitener can display at tracks that are extremely familiar to him.
"This is actually the track where I got that "Magic Man" nickname," Whitener said. "Terry Clanton was the announcer for Ray Miller's National Late Model Sportsman Series, and I won three feature races here in three different divisions in one night. He [Clanton] started calling me that, and it just stuck. I don't even know how many years ago that was, but it was awhile ago."
Threats From Brown, Whitener
Whitener had to deal with two different threats during the race—one from Brown during the early stages—and the other from Peacock over the final 20 circuits. Brown tried the high side on a couple of occasions, but fell back. He dropped to third, and was pleased with the finish. Three races ago, Brown returned to the series after a long layoff, and finished second in a $5,000-to-win event at Needmore Speedway in Norman Park, Ga.
"Another good week here tonight, and we didn't tear nothing up," Brown said with a grin. "We hadn't raced all year until recently, so it's just fun to get a chance to race again. "He [Whitener] basically lives right down the road, and he's pretty tough to beat at all these places located around his home. I wish we had a race or two at Phenix City [East Alabama Motor Speedway], and maybe that home-track advantage thing might play in our favor."
The Big One
Three laps after a vicious lap-38 crash that involved four cars [Jason Markewitz, Joe Kump, Mark Fleischer, Randall Beckwith] and left heavily damaged machines stacked on top of each other in the first turn, Peacock slipped past Brown into the runner-up slot. He took up the chase of Whitener, making his strongest attempts as the duo negotiated a path through slower cars.
"I was just biding my time, and trying to pick off cars one at a time coming up through there," the fifth-starting Peacock said. "The track was bottom-fed tonight, and it was tough to find the room you needed to make a pass. After I got into second, the last two cautions didn't help me because that took us out of the lapped cars on restarts. I could work him [Whitener] a little bit in lapped traffic."
Whitener was patient in the slower traffic, but admitted he would have struggled to pass them without trying the difficult outside lane, and he'd already made a decision regarding the ones who might fail to give racing room.
"I really didn't know if my car was good, because I was out front by myself for much of the race," Whitener said. "It seemed pretty decent, but you don't really know unless you're challenged, or someone shows up on your bumper. When Hunter [Peacock] was trying to drive past me in the latter part of the race and got near me a little bit, I felt that as long as I could stay consistent, he wouldn't be able to drive around me on the outside. I also knew that if he got up beside me, I was going to have to move a lapped car. I had already made that decision."
Sponsors and Schedules
Whitener wheeled a Savage Race Cars-built entry that carried sponsorship from Baker Farms, Whitener's Tractor Service, Massey Towing & Recovery, Mosley Ranch Trailers, Ocala Restaurant Supply, Pro Fabrication, Competition Racing Equipment, Penske Shocks, H&R Racing Engines and DT Welding.
The next event for the traveling series will be the prestigious Powell Family Memorial scheduled Oct. 20-22 at All-Tech Raceway, which pays $27,000 to the winner. The event is also part of the E-Z-GO $100,000+ Challenge schedule.
About Crate Racin' USA
The economical Chevrolet Performance 602 and 604 Circle Track Engine is utilized by competitors in the various divisions presented by Crate Racin' USA. It's in stock and available from Newsome Raceway Parts in Hartsville, S.C.
Each engine is built and sealed at the factory to prevent any expensive modifications. To place an order, call 1-877-497-3624.
For more information and rules, visit the organization's website at www.crateracinusa.com, or follow our extensive social media programs on Facebook, Twitter and Instagram.
Newsome Raceway Parts, a division of Raceway Chevrolet in Hartsville, S.C., is the title sponsor of Crate Racin' USA. E-Z-GO Golf Carts is the title sponsor of the second-year E-Z-GO $100,000+ Challenge.
Chevrolet Performance is an official sponsor of the organization, along with Advanced Laser & Machine, Cruise with the Champions, Hoosier Racing Tire, KRC Power Steering, Knowles Race Parts and Bodies, My Race Pass, VP Racing Fuels and Lubricants and Willy's Carburetors.
Official chassis sponsors include Warrior Race Cars, Rocket Chassis and CVR Race Cars.
Showdown on the Coast: 1. Mark Whitener, 2. Hunter Peacock, 3. Joseph Brown, 4. Jason Welshan, 5. Jimmy Thomas, 6. Russell Brown Jr., 7. Trey Mills, 8. Michael Lloyd, 9. Jake Knowles, 10. Kam Boyd, 11. Cody Overton, 12. Jordan Yawn, 13. Clay Harris, 14. Jake Rainey, 15. Jason Fitzgerald, 16. Jonah Bozeman, 17. Matthew Brocato, 18. Jackson Hise, 19. Ty Giles, 20. Rhett Carter, 21. Shane Riner, 22. David Markham, 23. Colton Truille, 24. Joe Kump, 25. Jason Markewitz, 26. Mark Fleischer, 27. Garrett Lloyd, 28. Randall Beckwith, 29. Chris Lovett.
Entries: 48
Fast qualifier: Hunter Peacock, 16.700 seconds
Lap leaders: Mark Whitener 1-60.
Margin of victory: 1.220 seconds
Cautions: 4
KRC Heat winners: Russell Brown Jr., Mark Whitener, Joseph Brown, Jason Welshan.
KRC Power Steering B-main winners: Michael Lloyd, Garrett Lloyd.
Crate Racin' USA Dirt Late Model Series (current points): 1. Jimmy Thomas, 1,402; 2. Jake Knowles, 1,254; 3. Jake Rainey, 1,240; 4. Matthew Brocato, 1,100; 5. Jimmy Thomas, 1,082; 6. Jason Markewitz, 1,054; 7. Tanner Collins, 916; 8. Jeremy Pate, 908; 9. Randall Beckwith, 640; 10. Dalton Dowdy, 614; 11. Cody Overton, 554; 12. Tyler Millwood, 468; 13. Mark Whitener, 466; 14. T.J. Brittain, 454; 15. Clay Harris, 422; 16. Hunter Peacock, 338; 17. (tie) Adam Gauldin and Zach Shelton, 324; 19. Henry Carter, 320; 20. Mark Fleischer, 308.
E-Z-GO $100,000+ Challenge (current points): 1. Jimmy Thomas, 426; 2. Jason Welshan, 424; 3. Jake Rainey, 396; 4. Jake Knowles, 382; 5. Randall Beckwith, 378; 6. Matthew Brocato, 348; 7. Jason Markewitz, 322; 8. Clay Harris, 302; 9. Tanner Collins, 258; 10. Hunter Peacock, 244; 11. Cody Overton, 242; 12. Jeremy Pate, 234; 13. Henry Carter, 208; 14. Zach Shelton, 196; 15. Mark Whitener, 194; 16. Cameron Weaver, 184; 17. Trey Mills and Nevin Gainey, 166; 19. Jimmy Sharpe Sr., 162; 20. Jonah Bozeman, 154.
---
Article Credit: Brian McLeod
Back to News