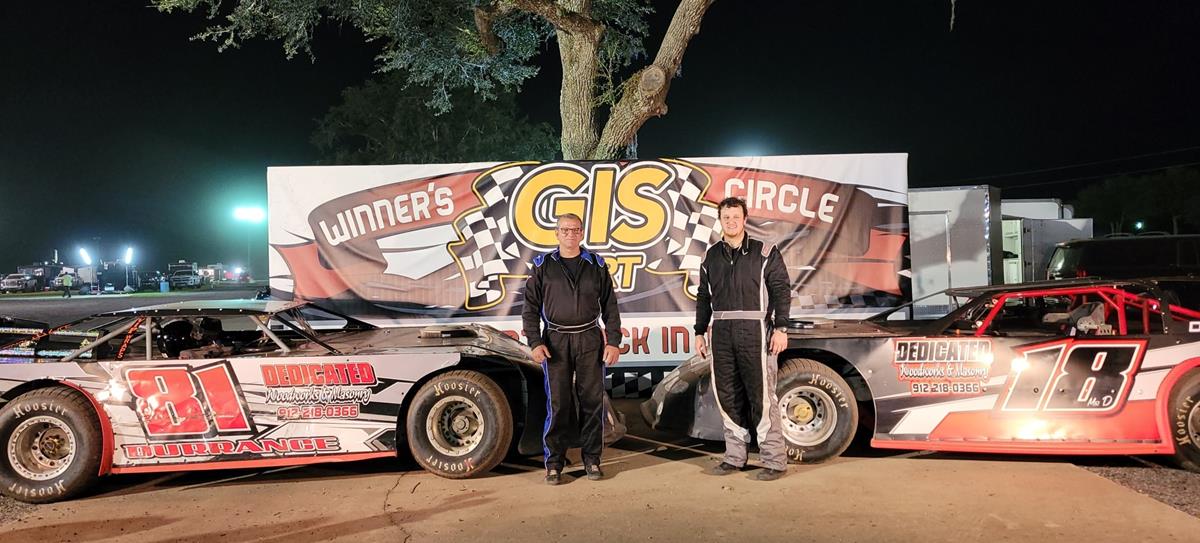 9/25/2022
Golden Isles Speedway
---
Stock-Stars night was filled with great racing
Fast qualifiers for tonight were Donnie Durrance in Superstreet, Phil Pittman in 602's, Dalton Kirby in Street Stock , Coty Gray in Crown Vic and Jamie Flowers in Enduro.
Superstreet feature had pole sitting Donnie Durrance lead from flag to flag with the real battle going on from 2nd thru 5th.
Donnie's son Dillon finished 2nd, followed by Mack Williams, Dustin Rowland and Chris Pearse.
602 feature also had the pole sitter take it from start to finish. Phil Pittman held off a number of challenges from 2nd place Gavin Cowan to take his 2nd win of the year here at GIS. Finishing 3rd was Jordan Lockhart, followed by Cole Platt and Scott Waters.
Street Stock feature had Donnie Bazemore dominate the race up until 7 to go, unfortunately had to pull in and handing the lead over to Dalton Kirby, who lead the remaining 7 laps to take the win. Chris Keller finished 2nd, Kyle Livingood 3rd, Bud Chancey 4th and Jamie Flowers rounded out the top 5.
With a full field of Crown Vics on hand, Dylan Litchfield took the lead from his outside pole position and held off a strong running Coty Gray to win the Crown Vic feature. Finishing 3rd was Daniel Nelms, followed by Wesley watkins and Tony Bromley.
The final race of the night was the Enduro class. Unfortunately, plagued by cautions and finally a red flag on lap 7, this one was ended early with 2nd starting Tanner Reich with the win, followed by Justin Hart, Roger Mckenzie, Kyle Livingood and Chase Litchfield.
Congrats to all our winners and we appreciate all the competitors and fans that attended our Stock-Stars event as there was a number of choices for racing that night.
We look forward to hosting you again for our finale to the 2022 season Oct 13th-15th for the Showdown on the Coast , featuring a 10k to win CRUSA feature and a 2k to win Borderline Brawl Enduro feature.
---
Submitted By: Amber Bronson
Article Media
Back to News