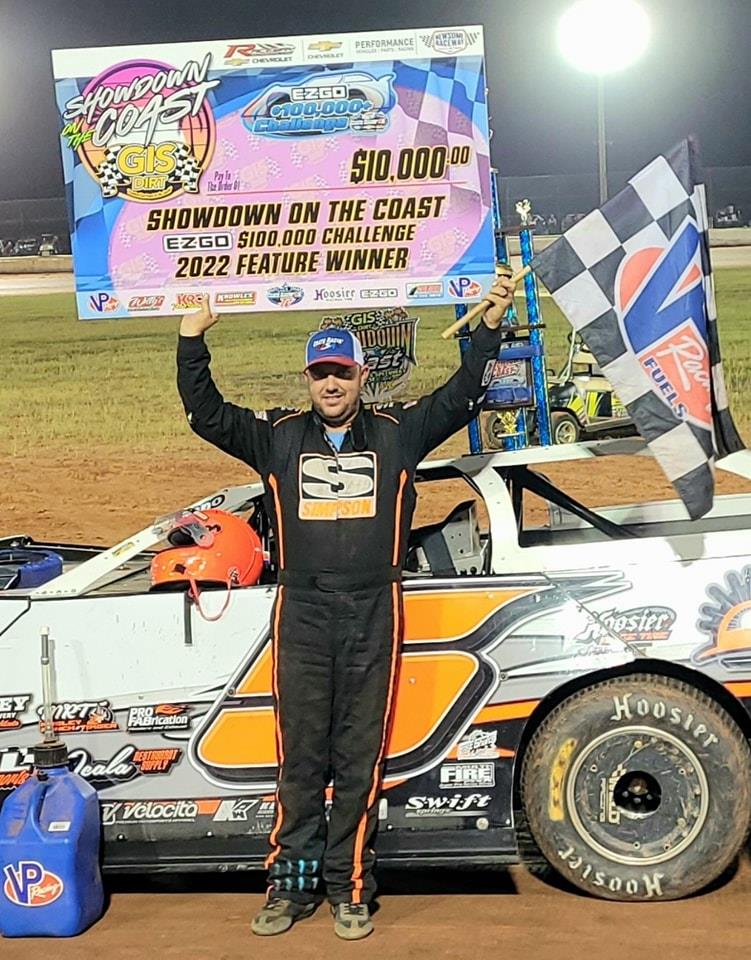 10/20/2022
Golden Isles Speedway
---
Showdown on the Coast brings our 2022 season to an exciting end
Perfect weather in South Georgia for the annual Showdown on the Coast featuring Crate Racing USA late models and Borderline Brawl enduros.
Practice Thursday night started things out, then Friday night began racing action with qualifying and heats for 604's and enduros and a crown vic feature.
48 Crate Racing USA late models took to the track and fast time was set by Hunter Peacock with a 16.70.
Heat race winners were Russell Brown ,Mark Whitener,Joseph Brown and Jason Welshan.
Enduro qualifying had Tim Goforth set fast time with a 20.212.
Heat race winners were Jared Jones, Jason Price,Tyler Sanders,Dylan Litchfield,Ronnie Newsome and Patrick Williams.
Crown Vic hotlap qualifying has Chase Litchfield top the charts putting him on the pole for Fridays feature. He led flag to flag to win Fridays Crown Vic feature.
Saturday action would include B mains for 604's and enduros along with hotlap qualifying and features for 602's and crown vics.
CRUSA late model B feature winners were Michael Lloyd and Garret Lloyd.
Enduro B main winners were Jason Garver and Brian Barnes and the non qualifier race winner was Shaun Washam.
Qualifying for 602's, Scott Waters topped the charts and for crown vics, Andrew Roberts had fast time.
602 feature , Scott Waters jumped out from the pole, led flag to flag to win the feature. Good battles behind him , Jason Garver finished 2nd after starting 9th, Trey Mills finished 3rd after starting 13th. Cody Overton finished 4th and Chase Collins 5th .
Crown Vics had 2nd place starting Chase Litchfield take the feature win , his 2nd of the weekend.
Borderline Brawl Enduros feature saw a good battle up front, eventual 2k winner Tyler Sanders, who crossed the line 2nd was awarded the win after Jason Prices B5 did not pass tech. Finishing 2nd was Ronnie Newsome followed by Jared Jones 3rd, Scotty Kay 4th and Kevin Durden 5th.
CRUSA 10k to win feature had Mark Whitener jump to the lead from the pole and maintain it all 60 laps. Hunter Peacock and Joseph Brown made runs at him thru lapped traffic but the Magicman stayed out front to the checkered, 2nd place was Hunter Peacock, Joseph Brown 3rd, Jason Welshan 4th and Jimmy Thomas rounding out the top 5.
We would like to thank everyone that attended and raced at the Showdown on the Coast and CRUSA and Borderline Brawl for being a part of it.
Was a great way to close out the 2022 season,and in the meantime we will be working on improvements as we get ready for our 2023 season, opening with the Super Bowl of Racing with Lucas Dirt.
We look forward to seeing everyone back in January !
Pictured are feature , heat , B main and fast time winners.
CRUSA photos by Brian Mcleod/Dirt Scenes
---
Submitted By: Amber Bronson
Article Media
Back to News