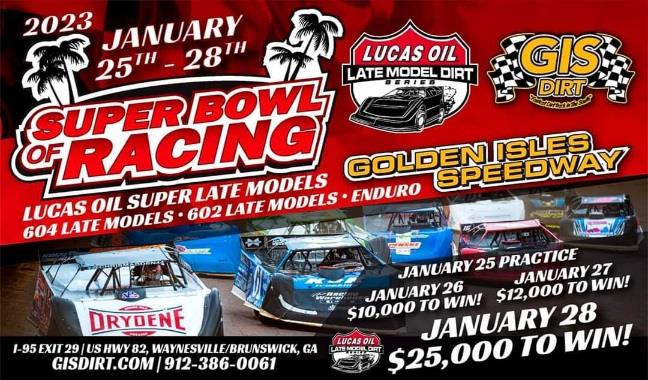 12/28/2022
Golden Isles Speedway
---
Super Bowl of Racing latest event information
With the Super Bowl of Racing fast approaching, attached here is much of the information needed concerning dates, times, prices along with schedule of events and payout information along with some rules.
We are very excited about this years event and starting out the Lucas Dirt season ,besides the largest Super Bowl payout of 25k on Saturday night, and over 200k in purse money , this year our local divisions will be included in the live streaming, so there is alot of TV time for brand, sponsor exposure, which makes this event a really great opportunity to advertise your business, whether it be an 8x16 billboard, 4x8 banner ,packer car door or even becoming a title sponsor for one of the divisions . Plenty of options, be sure to give us a call if interested.
The GIS team has been hard at work with upgrades and improvements in the offseason to ensure a great experience come Super Bowl time and we are very proud of that.
Something new this year ,we will be serving beer at GIS, it will be located beside the main grandstands under the VIP booth. Be sure to visit Megan Lloyd, the first 300 will get a complimentary koozie. Please drink responsibly and follow the designated areas, we want all to have a good time.
Latest updates are usually are posted on social media, further questions or other information as well as advertising opportunities , feel free to call the office at
912-386-0091 or Email us at gisdirt@yahoo.com.
---
Submitted By: Amber Bronson
Article Media
Back to News